About Us
Kandavara House was just where our family spent the languorous summer months and all other vacations in my childhood. Away from the bustle of the city, I spent my time basking in the adulation of my grandparents or swinging on the reeds of a banyan tree at the neighboring Jambukeshwara temple, across the banks of river it stood by. We come from an agricultural community called the Bunts. Being one of the only three matriarchal communities in India, this home has passed down from mother to daughter four times. My Ajji (grandmother) was the embodiment of this nurturing spirit and under her reign, no matter what the occasion, everyone was welcomed and tended to with sumptuous food and revitalising care.
Kandavara folks
But enough about me and my Ajji. Easily the most endearing members of Kandavara are our support staff, whom we're grateful to call family.
Kushta has been around for 50 years. He pretty much handles everything when we're not around.
The amiable but reticent Vasu and his wife Chandravathi help with running the house. Along with their children, whom you're bound to meet on their way to school, Vasu and family form the core of our household.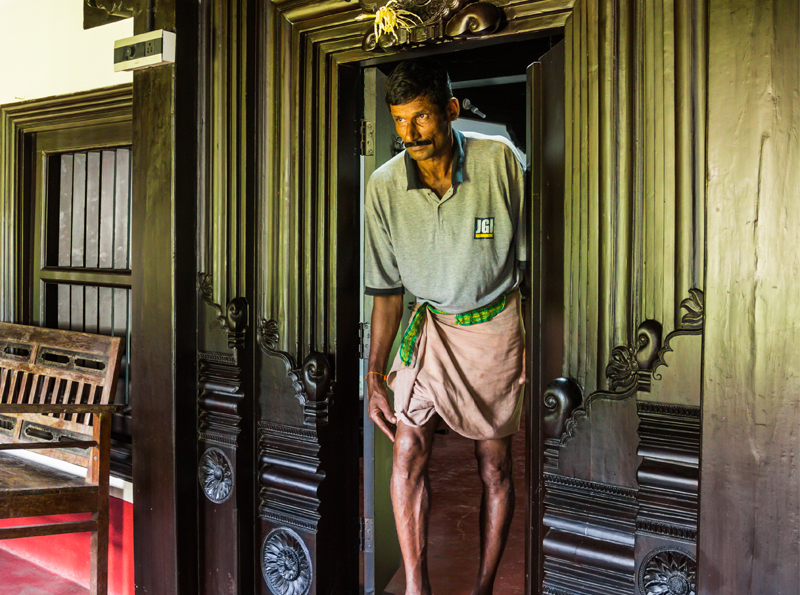 OUR 100 year old ANCESTRAL HOME
KANDAVARA HOUSE
With it's cooling red oxide floors and an expansive intricate hand carved wooden pillars courtyard overlooking the plantations of coconut trees and lush paddy, Kandavara House reflects Dravidian architecture of this district. We've taken care to conserve our interiors, too. Right from the latches to the height of a door, the interiors of the house also reflect the customs of our agricultural roots. You'll find plenty of cosy nooks to unwind, both at home and in the soothing outdoors.
Our ancestral home has always served as a sangha (gathering spot) for the locals. In fact, a part of the house initially served as granary. Whether it was the entire town taking shelter from the floods or simply because there was no other TV set in town, Kandavara House has always had her doors open.
Home